About Lovell International Camps
The Lovell family owned and operated the prestigious John F. Kennedy International School and Summer Camp in Saanen-Gstaad, Switzerland for over 40 years. In 2011 the family decided to separate the school and summer camp and create Lovell International Camps AG. Lovell Camps have expanded its recreational and learning opportunities by opening up a winter camp program which offers a wide variety of winter sport activities and language classes for boarding and day campers as well as groups.

Throughout the years there has been a positive, ongoing association with families and staff members. Lovell Camps is very much a 'word of mouth' organization, with the result that, every summer and winter, we welcome new campers and counselors who are friends, brothers, sisters, cousins and now even children of former students.

Some key features help to make our camps so successful: the family-like atmosphere, the opportunity to learn or to practice English, French and German, the structured, well-supervised program, and, of course, the experience of a lifetime in the Swiss Alps! Our highly-qualified staff members make the difference between a good camp experience and a great one.

The first concern of our program directors and counselors is always the welfare and happiness of each child. All of us here at Lovell Camps do everything possible to ensure that each child thinks of camp as a time to have fun, to make new friends, to improve their sports skills, and to learn new things – about the world, about other cultures, and about him or herself.

History – Summer Camps in Switzerland since 1973
In 1971, Canadian born William and Sandra Lovell reestablished the Chalet Pfrundacker Children's home as the John F. Kennedy International School. In 1973, with the help of William's sister Catherine – the John F. Kennedy International Camp was born.

The Camp aimed to provide a safe, healthy, fun summer learning environment for children in the beautiful Saanenland region. The founders brought with them an enthusiasm and knowledge of how summer camps work and should be run.

As Canada is steeped in summer camp tradition the Lovell's were familiar and experienced camp leaders and were naturally enthusiastic at the prospect of sharing these wonderful summer experiences with children from around the world who otherwise may not have had the opportunity to experience summer camp at its best.

In 2009 the John F. Kennedy International Camp opened a new campus in Schönried allowing the camp to offer a modified and more challenging program for campers aged 11 – 15.

In March of 2011 the management of the John F. Kennedy International School and Camp decided to separate the two entities and create Lovell Camps AG under the direction of the Lovell family thus continuing the long standing summer camp tradition.
Mission
To be a leading international sport and education camp helping young people to achieve their full potential – Discover – Learn – Grow

Goals
1. To provide safe, healthy, and challenging learning experiences for young people
2. To introduce students to skills and sports that increase self-confidence while building character and leadership qualities
3. To help students develop their language ability and communication skills
4. To increase environmental awareness through participation in a variety of outdoor living activities and sports
5. To help campers to develop a global and empathetic world view by bringing young people from a variety of cultures and countries together in an open and engaging way
Keys to Lovell Camps' Success:
• highly-knowledgeable and well-trained staff team
• family-like atmosphere and special attention to each camper
• well-supervised clear structure of the program
• leaders in educational camping s e 1973
• ideal location in the Swiss Alps

Unique opportunities for everyone, tailored to each season
Health and Safety
The health, safety and general welfare of the individual camper is the first concern of Lovell International Camps. Every precaution is taken where campers eat, play and sleep. No activity is undertaken without proper supervision or where undue risk is involved.

A qualified physician is available at all times and there is a fully-equipped hospital in Zweisimmen, which can be reached within 10 to 15 minutes. It is compulsary for all campers to have health and accident insurance which is valid in Switzerland. An insurance plan is available through the camp as an optional extra.
Our Staff
Leadership
The right leadership makes all the difference! This is what makes Lovell Camps a truly successful family business in its second generation! Lovell Camps is owned and operated by Swiss-Canadians, Bryce and Victoria Lovell, two former directors of the John F. Kennedy International School.

Bryce Lovell – Co-Owner and Director
A business and music graduate of Bishop's University in Canada, Bryce worked as Director of Development and Sports at the John F. Kennedy International School in Saanen, Switzerland for over 10 years. He has been involved with Summer Camps and Outdoor education for well over 25 years. Bryce has had years of experience in teaching skiing, snowboarding, swimming, rock climbing, guitar as well as coaching a number of team sports. With an extensive ski racing background at FIS and university level, Bryce Lovell is an accomplished all-round skier. Bryce earned 1st place in his Swiss Ski Instructor program, SSI Level 3, and is ISIA certified.

Bryce Lovell also ran the John F. Kennedy International School's daily ski program for over 10 years, producing a number of regional champions. Bryce is also an avid snowboarder and instructor and an enthusiastic athlete and teacher of all snow sport disciplines, from racing to freestyle.

Victoria Lovell – Co-Owner and Director
A Canadian University graduate as well, Victoria Lovell is also a qualified and experienced nursery to year 10 teacher, who obtained first-class honours. For over eleven years Victoria worked in the capacity of teacher, Curriculum Coordinator and as the Director of Studies for the John F. Kennedy International School.

Victoria Lovell has had years of camp-counsellor experience and has directed a number of outdoor education pursuits both in Canada and Switzerland. Victoria is accredited as an International Primary Curriculum 'Leader for Learning' and has implemented brain-friendly learning and internationalism in all areas of the JFK School.

Professional Teachers
Our English-speaking staff members are either professional teachers, skilled international and Swiss ski instructors, or experienced camp counsellors. Our staff training program emphasizes the need for close supervision, safety and awareness of the needs of each individual child.
Working at Lovell Camps
All summer and winter staff are expected to participate fully in all aspects of the program including sharing meal, evening and weekend supervision and camp maintenance duties.
All applicants will be asked to fill out an application form, provide a resume, be interviewed and provide at least 2 references. If interested in a position at Lovell Camps please apply through our website by filling out our online application.

Counsellor – Winter and Summer
Applicants must be a at least 20 years old and hold a university degree or in the process of attaining a degree or some equivalent. All counsellors are expected to participate fully in all aspects of the program including sharing meals, evening and weekend supervision and camp maintenance duties. The following experience and qualifications will be very useful:
– working with children and/or previous camp experience
– English as a Second Language or French teacher
– outdoor or physical education experience and qualifications
– swimming instructor or lifeguard, first aid qualifications
– experience driving mini bus and manual transmission
– valid European D1 drivers license or equivalent
– hiking, camping, rock-climbing certifications
– tennis coach, soccer coach, mountain biking, archery, team games etc.
– arts and crafts, pottery, video editing and photography
– drama, music, ability to lead sing songs
– experience planning rainy day and evening programs

Ski and Snowboard Instructors
Applicants must hold professional qualifications and will be expected to participate in all aspects of the program on and off the hill. These will include, sharing meals, evening and weekend supervision and camp maintenance duties. Lovell Camps recognizes the following qualifications:
Switzerland – SSI Level 1 or higher
Canada – CSIA/CASI Level 2 or higher
Great Britain – BASI Level 2 or higher
USA – PSIA/AASI Level 2 or higher
New Zealand – NZSIA Level 2 or higher
Australia – APSI Level 2 or higher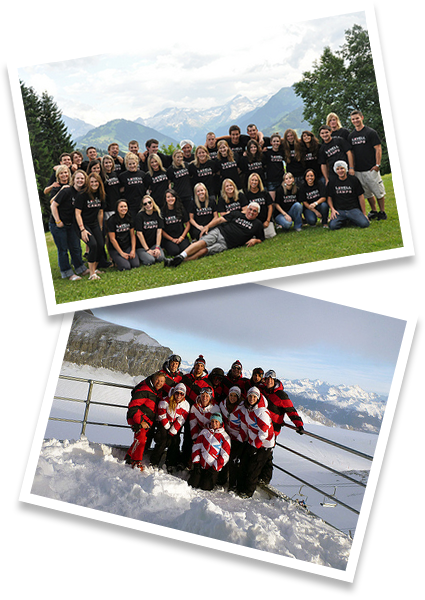 Summer Camp 2023
If interested in a position at our summer camp, please apply online by clicking on the link provided below.

All summer staff are expected to participate fully in all aspects of the program including sharing meal, evening and weekend supervision and camp maintenance duties.

If interested please fill out the secure online application form and email us your resume. Once the application is received we will schedule an interview. We ask each applicant to provide at least 2 references.

Click here to fill out the application form: Application Form

Apply Now: Application Form
All staff are expected to participate fully in all aspects of the program including sharing meal, evening and weekend supervision and camp maintenance duties.

Jobs for Winter 2022/23
Ski and Snowboard Instructors

Applicants must be qualified ski and/or snowboard instructors. Please view our Staff section to see which qualifications are recognised by Lovell Camps.

Click below to view job description:

Job Description – Counsellor and Ski/Snowboard Instructor

Apply Now: Application Form

If interested in these positions at Lovell Camps and have questions please email us. You can also send your resume to info@lovellcamps.ch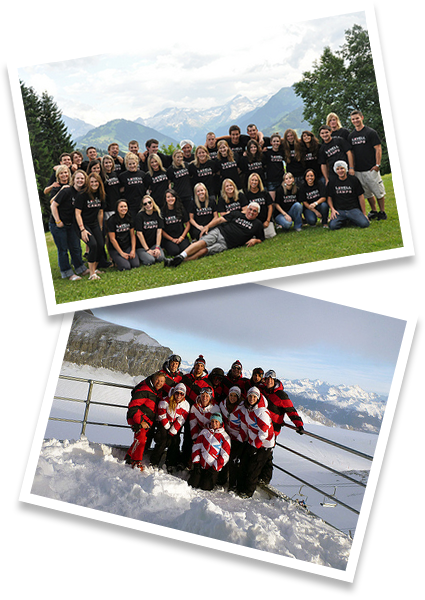 Testimonials
My favourite things about camp are:
The food was great!
The Aquaparc was fun and I loved the slides.
Science because I liked to make the explosion.
I liked to climb on things during rock climbing.
The teachers were so nice!
I loved dancing
Fatima, Summer Camper
"I don't have a favourite day, all the days were awesome and everyday is as good as the one before! Also, it is a small camp and the advantage is that you know everyone. All of the counselors are really kind to me. My favourite Interest Group was mountain biking because it is a new sport and I have learned a lot. You really need to be careful while biking."
Elie, Summer Camper

"I think that my favourite day at Lovell Camps was when we went rafting. The water was so cold but it was nice after spending the day in the sun. When we went in the water, I felt like I was in paradise! The night we went bowling was fun too. I loved it when the lights turned off and the neon lights came flashing on. Overall, camp was great!"
Isabella C., Summer Camper

"Camp makes me feel excited because I love it. My favourite parts of camp are the Aquaparc and the disco party!"
Sabrina, Summer Camper

"I like the Senior Program because we get to do cool things on the weekends like movie night and shopping. On Sunday's we get a lot of free time to play sports or do various things."
Paco, Summer Camper

"Boarding is exciting and fun! We get to do things that Day Campers don't. We spend time away from home and sometimes our parents will call or visit us so we don't get homesick. I enjoy sharing my room with other people because I get to learn more and make friends. We can win cool treats by keeping our room clean and participating in the "cleanest room competition". In the evenings we play great games in evening program. We also get great food for breakfast, lunch and dinner. All in all being a boarder means lots of fun and amazing opportunities!"
Diky, Summer Camper

"For me it was very important to meet new people and I had fun at camp. Especially tennis and cooking and baking were great!"
Maria-Giovanna, Summer Camper

"There is always something to do. All the staff are nice and friendly, the skiing was amazing. The best bit was definitely the skiing, the food was good too."
Kielder, Winter Camper

"I thought it was good, the skiing was nice and the food was good, my bed was comfortable and I was always busy."
Derwent, Winter Camper