International Summer Camp in Switzerland – Since 1973
Lovell International Camps is one of the longest running and most successful summer camps in Switzerland.
With the aim of unlocking each child's full potential, Lovell Camps has created age- specific activities and programs that build character, confidence and new skills. We offer four camp sections:
Junior Camp (Marmots & Foxes)
Senior Camp (Ibex & Lynx)
Leadership Training Program
Kids Club
At Lovell Camps, young people gain the opportunity to learn, practice and refine their language skills through a total immersion English language program. French is also offered as a language to study. Lovell Camps promotes programs including swimming, hiking, outdoor living skills and environmental education.
A wide variety of sports and activities are offered as interest groups, for example tennis, golf, horseback riding, football, arts and crafts, music, cooking, mountain biking and rock climbing. Children can choose to pursue two such activities.
Being an ideally located summer camp in Switzerland, the program also includes weekly excursions and special events days. Overnight camping trips and treks to Swiss Apline Club huts give students the opportunity to practice their outdoor skills and increase environmental awareness. Students are exposed to Swiss history and culture through visits to local attractions along with day trips to well-known destinations across the region. Other activities include campfires, pool parties, trips to the Aquaparc and discos. Friendships and memories developed at Lovell Camps will last a lifetime!
Summer Camp Programs
Junior Camp (5/6 – 10/11 Year Olds) "MARMOTS & FOXES"
Exploring, playing, creating and learning are at the core of this program. The Junior Camp program has been designed with the campers' ages in mind, to give them a sense of independence while nurturing their confidence to unlock their full potential. This program is jam packed with entertaining activities such as sports, water games, creative crafts and team challenges. Campers will be enthusiastic about the programs offered such as fishing trips, visting the Bern Zoo, practising tennis with a pro, and overnight excursions. This high-energy camp is dedicated to making the most of your child's summer.
Senior Camp (11/12 – 15 Year Olds) "IBEX & LYNX"
The Senior Camp increases the adventure and leadership aspects of the program, to allow campers to have a greater sense of achievement and a new challenge! Campers are grouped according to age and experience to maximize the camp experience. The program has been designed to capture the interest of these young teenagers by incorporating high ropes, canyoning/rafting, a trip to Bern, pool parties and classic discos. Senior Campers will be planning and carrying out a Carnival Night for the younger children, filled with camp activities, delicious treats and pure enjoyment. A three-day Outdoor Survival Challenge, and thrilling overnight experiences, which even include a two-night Challenge by Choice excursion, are guaranteed to be highlights of the program.
"I like the Senior Program because we get to do cool things on the weekends like movie night and shopping. On Sunday's we get a some free time to play sports or do various things."  – Paco
Leadership Training Program (16 – 17 Year Olds)
Our Leadership Training program is for participants ages 16 to 17 years. Trainees will participate in hands-on seminars to gain knowledge about leadership styles, working with children, conflict resolution and professionalism. Young leaders gain first-hand work experience in program planning and implementation of these programs for children. They will also be able to explore the local area on weekend excursions and overnight hikes. Individuals can choose to have lessons in English or French while attending the program. The working language of the course is English and thus communication skills in this language are further developed.
Kids Club (2 – 5 Year Olds)
This program offers a little bit of song, a sprinkle of arts & crafts, a dash of the outdoors, a dribble of sports, and a whole lot of imagination and creativity, to make for an unforgettable summer experience. Your child(ren) will develop new skills, improve language abilities, gain a sense of independence and make new friends at Kids Club! The program runs Monday to Friday and has much flexibility and many options, as campers can attend on a daily or weekly basis and for full or half days.
Summer Camps Special Events
Summer Camps Excursions
With it's central location, the Lovell Camps summer camp in Switzerland has an excursion planned during every week. These excursions include all-day mountain hikes as well as day trips to places such as Montreux, Interlaken or Bern in Switzerland. During each three week session there are two overnight adventures – camping out in tents and a two day hiking trip with an overnight stay at one of the fully-equipped Swiss Alpine Club huts. These two outings are very popular with the children and always prove to be highlights of the camp program.

Camps Weekend Program
Saturdays are more relaxed for the boarders who, after completing their morning chores, have free time to play outdoors. They also receive their weekly pocket money to go shopping in Saanen or Gstaad with the counsellors. There is a supervised free swim on Saturday followed by movie night. Boarders will also have a special shopping trip to a nearby city.

Sundays are all-day excursions organized to give the children opportunities to see different parts of Switzerland and learn about the alpine environment. These outings have included visits to the Diablerets Glacier, the castle at Gruyeres and many of the local mountains, as well as trips to the zoo, the lake of Neuchatel, or the Olympic Museum in Lausanne.

Camps Special Events Day
Each camp session has a number of specially organized events such as; camp fires, pool parties, trips to the Aqua Parc, end-of-session disco. Camp sessions always end with a "Special Events Day" in which the children participate in various swimming and field events. Following a special barbecue, the campers are presented with awards and are recognized for their achievements in swimming, language, interest groups, camping and hiking.
Summer Camp Sessions 2023
Lovell Camps summer camp in Switzerland admits boys and girls of all nationalities, aged 5 to 15 years for the Junior and Senior programs and 16 to 17 for the Leadership Program, who are in good health and able to participate fully in all camp activities.
Day Campers attend Mondays to Fridays from 08.40 to 17.45.

SESSION 1: THREE WEEK SESSION JULY (Apply Here)
(Boarder Fee – CHF 6,300 / Day Fee – CHF 3,900)
(Leadership Training Fee – CHF 6,300 – Boarder Only)
Dates: 02.07.2023 – 22.07.2023

SESSION 2: THREE WEEK SESSION AUGUST (Apply Here)
(Boarder Fee – CHF 6,300 / Day Fee – CHF 3,900)
(Leadership Training Fee – CHF 6,300 – Boarder Only)
Dates: 23.07.2023 – 12.08.2023

ADDITIONAL OPTIONS:
(Apply Here)
One-Week Sessions (multiple One-Week Sessions Available)
(Boarder Fee – CHF 2,200 / Day Fee – CHF 1,500)
Dates: 02.07.2023 – 12.08.2023

* Boarders attend Sunday to Saturday. If staying for two one-week sessions additional fees apply for our Sunday excursion program.
Please be advised that our summer camp program consists of 2 three-week sessions which are carefully designed to provide a unique and well balanced summer experience for each individual to receive sufficient instruction, guidance and coaching in the many diverse lessons, activities and excursions on offer. Only campers that attend for a minimum of three weeks will be eligible for our award programs.
Since new campers generally need 2-4 days to become fully integrated into the camp community, shorter sessions barely provides time to fully appreciate the camp community and its role models. We thoroughly recommend choosing three-week sessions, to get the most out of our programs.
Please enquire directly for other session options.
Email: info@lovellcamps.ch or Telephone: +41 33 744 2535

Fees include all lessons and programs, supplies, equipment, excursions, room and board (boarders), lunches (day students), and a camp t-shirt.

Not included are tennis, horse riding, golf, baseball hats, transportation to and from camp, pocket money, medical insurance, German language lessons and personal expenses. We ask for a non-refundable registration and extras deposit of CHF 100.00/week for boarders and CHF 50.00/week for day campers. The registration/deposit fee is used toward pocket money, administration expenses and special programs.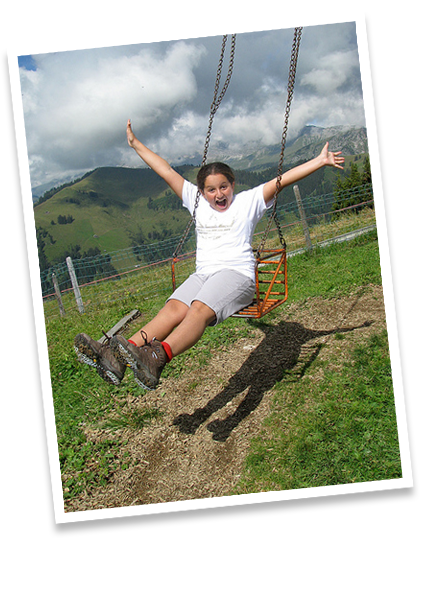 Summer Camps – Campers
Every summer Lovell Camps welcomes up to 200 children representing more than 20 different nationalities. Families have the choice to place their children in boarding or to send them to day camp.

Our campus in Schonried, Switzerland is large enough to divide campers by age, with 6 – 10/11 year olds (Marmots and Foxes) making up the juniors and 11/12 – 15 year olds (Ibex and Lynx), the seniors.

Boarding Campers
The junior and senior campers are housed in the Lovell Camps Mountain Lodge which accommodates up to 60 boarders. Two to six children share a bedroom with one counsellor per room to supervise daily routines and to ensure that each camper maximizes the benefits of his or her summer experience. Each bedroom at the Mountain lodge is equipped with bathroom and shower facilities.


"Boarding is exciting and fun! We get to do things that Day Campers don't. We spend time away from home and sometimes our parents will call or visit us so we don't get homesick. I enjoy sharing my room with other people because I get to learn more and make friends. We can win cool treats by keeping our room clean and participating in the "cleanest room competition". In the evenings we play great games in evening program. We also get great food for breakfast, lunch and dinner. All in all being a boarder means lots of fun and amazing opportunities!" – Diky


Day Campers
There are usually between 15 and 30 day students aged 6 to 15 who attend camp on Mondays to Fridays from 08:45 until 17:45.

There are 3 to 4 counsellors assigned to supervise and counsel the day students whenever necessary.
Lovell Camps – Mountain Lodge!
Lovell Camps is based at the Mountain Lodge – a modern, spacious, comfortable and well-equipped facility located in a rural area above the village of Schönried, which is a perfect setting for a summer camp in Switzerland. The camp has one of the most picturesque locations in the Saanenland and is close to the world- famous resort of Gstaad with it's first-class hotels, restaurants, shopping, sports facilities and events.

This large facility accommodates up to 60 boarding campers and the counsellors. Each room sleeps 2 – 6 campers with private bathroom and shower.

The Mountain Lodge has a spacious dining facility with breathtaking views, 4 classrooms, 2 large meeting or general purpose areas equipped with ping pong and foosball tables and a multi purpose movie room. The Lodge is surrounded by acres of gardens including a football field, basketball court, volleyball court, archery range, tree house, climbing tree, trampoline, slack line and fire pit.

Sports
Within a few minutes of the camp are the Saanen, Schönried and Gstaad tennis courts, an 18-hole golf course, indoor tennis courts, the local gymnasium, outdoor and indoor swimming pools, the Gstaad Riding School, indoor and outdoor rock climbing facilities, bowling alley and at least 12 major mountain cable cars and chairlifts.
Autumn and Spring Camps for Schools and Groups
Environmental Education
Using the beautiful Alpine surroundings, participants will be able to appreciate the natural surroundings while learning about the environment, flora and fauna, alpine eco-systems, effects of climate change, hydrological systems and meteorology (overnight at a nearby observatory) all while exploring the landscape, facing leadership challenges and doing fun, adventurous pursuits such as sport climbing and high-ropes courses.

Cultural Trips
Discover the natural and cultural heritage of our area. Visit a farm, museum and learn about how Gstaad developed from a small farming community to a world famous ski resort.

Visit nearby towns, cities, castles, museums, chocolate and cheese factories!

Sports and Interest Groups
Children can choose between number of sporting activities, interest groups, bowling, rock climbing, mountain biking, archery, swimming, volleyball, basketball, football, gymnastics, etc. The high ropes course and sports and games are favorites!

So much to learn, so much to offer!
Learn about the Swiss military and civil service. Learn about our historical train which takes passengers on an unforgettable journey from Lake Geneva to Zweisimmen. Learn about the workings of a grand hotel with tours of the facilities. Cook a delicious meal in the kitchen with the hotels chefs.

Lovell Camps – Autumn and Spring Camps cater to schools and groups looking for an exciting trip! Stays can be a couple of days to weeks and we encourage you to contact us so that we can tailor the trip to exactly what you want!

Download our 'Terms' or you can visit our Download's section under the 'About' menu.